Traditional Eastern European destinations, like Prague, Vienna, Budapest and Istanbul, are always popular among Canadian tourists. Moreover, every travel advisor will tell you that the interest to Eastern Europe is increasing. However, the new travel season of 2017 is also showing an expanding interest in some of the less popular tourist destinations of the region, such as the Baltic countries and Poland.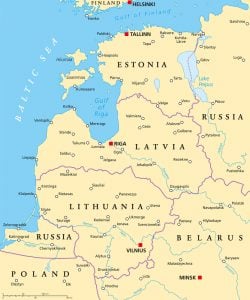 The Baltic states and Poland are countries that are attracting many clients' curiosity today. With strong demand throughout the region, Eastern Europe has it all for tourists: multiple festivals, unmatched coastal resorts and ancient fortresses and impeccable architecture, the UNESCO-listed Wieliczka Salt mines, the delightful Tatra Mountains and fantasy castles.
Poland and the Baltic states offer a great variety of possibilities for travelers to explore the cultures and varied experiences of Eastern Europe, such as beautiful calm Tallinn, Estonia, in the north of the region, or alluring Krakow, in Poland, which has the largest medieval town hall in central Europe.
Europe areas are still relatively new for canadians
A lot of tour companies have increased their tour packages and number of products to the Eastern European region. The most popular tours include a visit to the most favored destinations along with unique and hidden cities. If you order an expanded program you will definitely have an opportunity to experience private guided tours that offer travelers a more precise focus on visits to the top cities along with less popular regional destinations. As these areas remain relatively new to Canadian travelers, small group tours offer a lot of security, professional tour guides and high quality service with more flexibility for passengers.
You have a great opportunity to visit such beautiful cities as Riga in Latvia, Vilnius in Lithuania, Warsaw and Krakow in Poland, Prague in the Czech Republic and Vienna in Austria. The Baltic region has a lot to offer its visitors, including beautiful landscapes and unique cultures, wonderful architecture and marvelous attractions.
Nevertheless, the main reason to visit the destination of Eastern Europe remains its uniqueness and originality, which is a great choice if you are searching for new experiences and different cultures.